The Blood Arm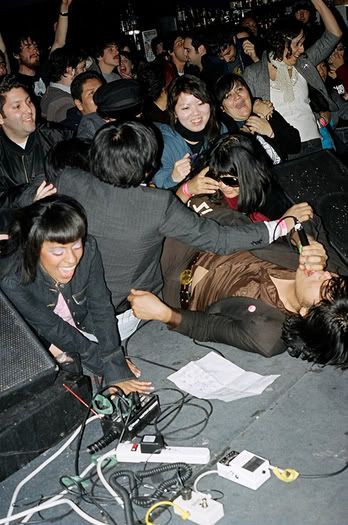 My newest banner at the top of the page is a photo I took of
The Blood Arm
at their show at SXSW '05. I hadn't heard much about The Blood Arm before that day (other than that they were
Franz Ferdinand
's favorite new band), and it would be an understatement to say I am now a fan of this band. Frontman
Nathaniel Fregoso
is absolutely insane in the best way...he spent most of his time climbing the rafters of the venue and making out w/ audience members (male and female).
Drowned in Sound
says about
The Blood Arm
, "what the 'Arm most hint towards is
Julian Casablancas and co.
at their most riotously, slurringly drunk." Count me in.
The band recently wrapped up a west coast tour with
Maximo Park
and will be touring the UK in late August.
Watch the video for The Blood Arm's "Say Yes"
(highly recommended)
Check out
The Blood Arm's blog
mp3
(demos that only hint at the greatness of The Blood Arm)
Do I Have Your Attention? mp3
Can I Unwind? mp3