insistor on MTV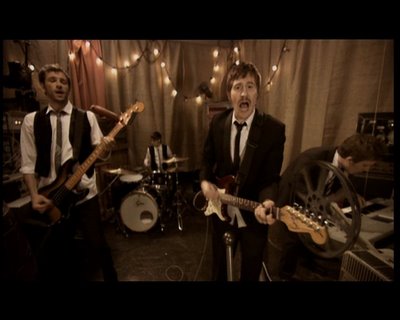 Tapes 'n Tapes
' video for "
Insistor
" will be up on
MTV2.com
on Friday (6/23) and then will be premiering at at the top of MTV2's
Subterranean
on Sunday (6/25). I haven't seen it yet, but it looks like it could be pretty cool. Here's some info and a couple screen grabs:
"The video was directed by
dan knight
and produced by richard weager, both from
HSI Productions
in london. we shot it may 17th in london at
black island studios
. the treatment was based on silent era german expressionist films, and the band's performance is what is driving the projector machine. all of the characters in the video are played by the band members (the evil nosferatu looking one is erik the bass player, the casanova is matt the keyboard player, the 2 street sweepers are the drummer jeremy and singer josh)"